International Autumn Retreat in Almaty, Kazakhstan
with Daoist teacher Juan Li
The next retreat will be: September 04 - 12, 2021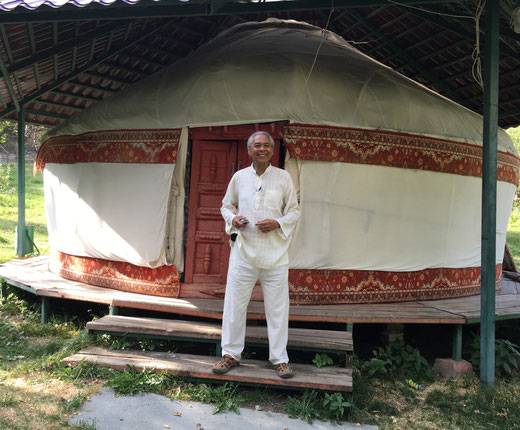 We meet again and fully engage in Taoist practices in the beautiful surroundings of
the Tian-Shan mountains. This retreat offers a special opportunity to learn from and practise with Daoist teacher Juan Li in a real retreat setting. It is the most effective, profound and immersing form of learning Taoist practices.   

This retreat will be devoted to two main topics:
"Refining Sexual Energy"
and

"Divine Feminine Mantras"
When:
Saturday, September 07th 2019, 11 a.m. until
Sunday, September 15th 2019, 5 p.m. (= 9 days/8 nights)
Kazakhstan is the land of natural wonders. Besides being the birthplace of ancient Eurasian civilizations, the motherland of nomadic people, and an important part of the Great Silk Road, it is the perfect place to find your spirit and to engage with pure nature.
Kazakhstan is the ninth biggest country in the world. Nevertheless, most of the land is still untouched. The country is a wealth of frosty mountain peaks, sparkling glaciers, softly rustling evergreen forests, huge rocky canyons bridged by colorful rainbows, emerald mountain lakes, wild rivers, poetic sunrises, and unique plant and animal life.
Kazakhstan`s population is 17 million. It is a modern country with a developing economy. However, since ancient times, Kazakhs have carefully preserved and passed down through generations their traditions of hospitality, respect for elders, peace and tolerance.
The old spiritual tradition of Kazakhs was Tengrism. This system of belief was born in the steppe - the boundless reach of land and the fathomless bowl of the sky. This vastness and emptiness brought into being the main ideas of this tradition: two divine forces, Mother Earth and Father Heaven, and the interaction between the two of them, which gives birth to all creations. Tengrism was a coherent and lively faith in the 'unity of all things' and it is present in the Kazakh soul even today.

Almaty - "the City of Apple Trees" - is located in the southeast of Kazakhstan, in the foothills of the Alatau Mountains, which are part of the Tian-Shan Mountains. Its population is 1.5 million. The city extends about 20 km in all directions from its center and is considered one of the most beautiful cities in Kazakhstan with regular planning, wide, tree-lined streets, numerous parks and orchards, and a backdrop of mountains.
Although it has lost the status of capital, Almaty remains the largest financial, economic and cultural center of Central Asia. It accommodates numerous business centers, theaters, museums, art galleries, exhibition halls and countless modern entertainment complexes.
Almaty is also the spiritual center of the country. People are very open and it is quite normal for many of them to attend different classes and workshops, and to practice in different spiritual groups. Tao practices are becoming increasingly popular in Almaty and there is a community of practitioners.
MARALSAY - our retreat venue

Our retreat venue place is located in the Ile-Alatau National Park, in the beautiful mountains of Tien-Shan, the Northern part of the Himalayas, 33 km outside of the city. Maralsay is 1250 m above sea level and covers an area of 3 hectares with beautiful landscapes and clean mountain air. It is a quiet place located far away from roads and villages, where we can enjoy the sounds of nature, mountain rivers, birds and trees.
Pension Maralsay has several houses with simple, clean and comfortable rooms.
Simple, delicious vegetarian meals will be provided three times per day.
The retreat will take place in the most favorable time of the year. We will experience the golden autumn and it will be really beautiful in mountains. Normally temperatures should be mild and warm in September and not as hot as in summer.
The training will be in English with translation into Russian.

Prerequisite is knowledge of the Healing Tao Basics (Inner Smile, 6 Healing Sounds and Microcosmic Orbit).
An online class with Juan Li to learn these basic practises is available here:
"Introduction, application and refinement of the Tao basic practises"
Our schedule will be similar for most of the retreat days, except the first day and the last:
7:30 - 9:00 morning exercise and meditation
9:00 - 10:30 breakfast
10:30 - 13:00 class
13:00 - 15:30 lunch break
15:30 - 18:00 class
18:00 - 20:00 dinner break
20:00 - 21:00 evening session (not every day)
Workshop fee:
900 € for all nine days

750 € for all nine days (if paid in full before June 1st, 2019)
625 € for all nine days (early bird - if paid in full before March 1st, 2019)
Limited places - a deposit of 
100 € will reserve yours.
Additional cost:
420 € for a single room

 - limited number only!
290 € for a double room

includes accommodation, three vegetarian meals per day as
 well as transfer from/to Almaty meeting point and workshop location.
Payment of additional cost directly at location in Almaty.
Cost does not include flights.
There are direct flights from most major European cities to Almaty starting at about 300 € round trip.
We recommend arriving in Almaty at least the day before. You will need a hotel because the retreat place will open for us the first day of the retreat. We organize a transfer from Almaty to the retreat center with a bus. It will take about 1 hour.
Let us know your arrival time and we can arrange for a car to pick you up from the airport. We could also assist you with finding accommodation before and after the retreat.
Update September 2018:
Due to 2017`s World Expo in Kazakhstan`s capital Astana visa regulations have changed and many foreigners - e.g. most European as well as U.S. citizens - can now stay up to 30 days without a visa.
Please check back with your local Kazakh embassy if you need a visa!
Registration form:
Please sign up by clicking the "Register here" button below. Choose your type of room, and if applicable, mention the name(s) of your roommate(s). Each registration requires a personal e-mail address so you can only register one person at a time.
Deposit:
You will receive a confirmation e-mail with our bank details to transfer your deposit of 100 €, which makes your registration official. This deposit is non-refundable in case you cannot attend.
 

Concerning: DEPOSIT JUAN LI and YOUR NAME.
Rest payment:
Please transfer your rest payment - workshop fee only! - to the same bank account as the deposit before June 1, 2019 - early birds before March 1, 2019.
Concerning: REST PAYMENT JUAN LI and YOUR NAME.
Payment of additional cost directly at location in Almaty.
Cancellation:
In case you need to cancel your reservation, please do so as soon as possible. In case you cancel after August 1, 2019, the rest payment can only be refunded if you find someone attending the retreat instead of you.


If you want to spend some more time in Almaty after the retreat you are very welcome. We are organizing a sightseeing program exploring not only the city, but also the beautiful scenery around Almaty!
We will provide more specific information and help once you have reserved your place.
Join Juan Li teaching in Kazakhstan again, meet like-minded Kazakh and international Tao practitioners, practise in pure nature, learn about Kazakh culture and make new Tao friends on this spiritual journey!
We look forward to welcoming you to this exciting retreat in Almaty!